Our company, Nikken Co., Ltd which is currently based in Yamanashi Prefecture, Minami Alps City, has been developing businesses in connection with the products of Hitachi Construction Machinery Co., Ltd. while continuing to provide convenient and competent services to our valued customers.

Our Sales and Service Division offers different services largely within the prefecture. In Yamanashi City, where our Service Center is located, restores various types of diesel engines, transmissions, axles, and other significant machine components. On the other hand, our Manufacturing Division is involved in the assembly and painting of heavy machinery, mainly construction equipment. They also produce products/parts from can-making (canning) where some of which are exported to countries around the world.

Furthermore, I would also like to give emphasis in our on-going demining projects. Started in year 1995, with help of the knowledge and technical skills gained through years and years of manufacturing and repairing construction machinery, we have successfully developed and is continuously supplying anti-personnel landmine clearing machines to countries such as Laos. Cambodia, Colombia and others.

We will continue to develop and innovate ideas with the goal of making our products and services be available not only within Japan but throughout all over the world.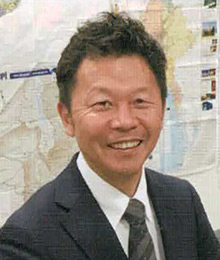 Makoto Amemiya
President
Nikken Corporation